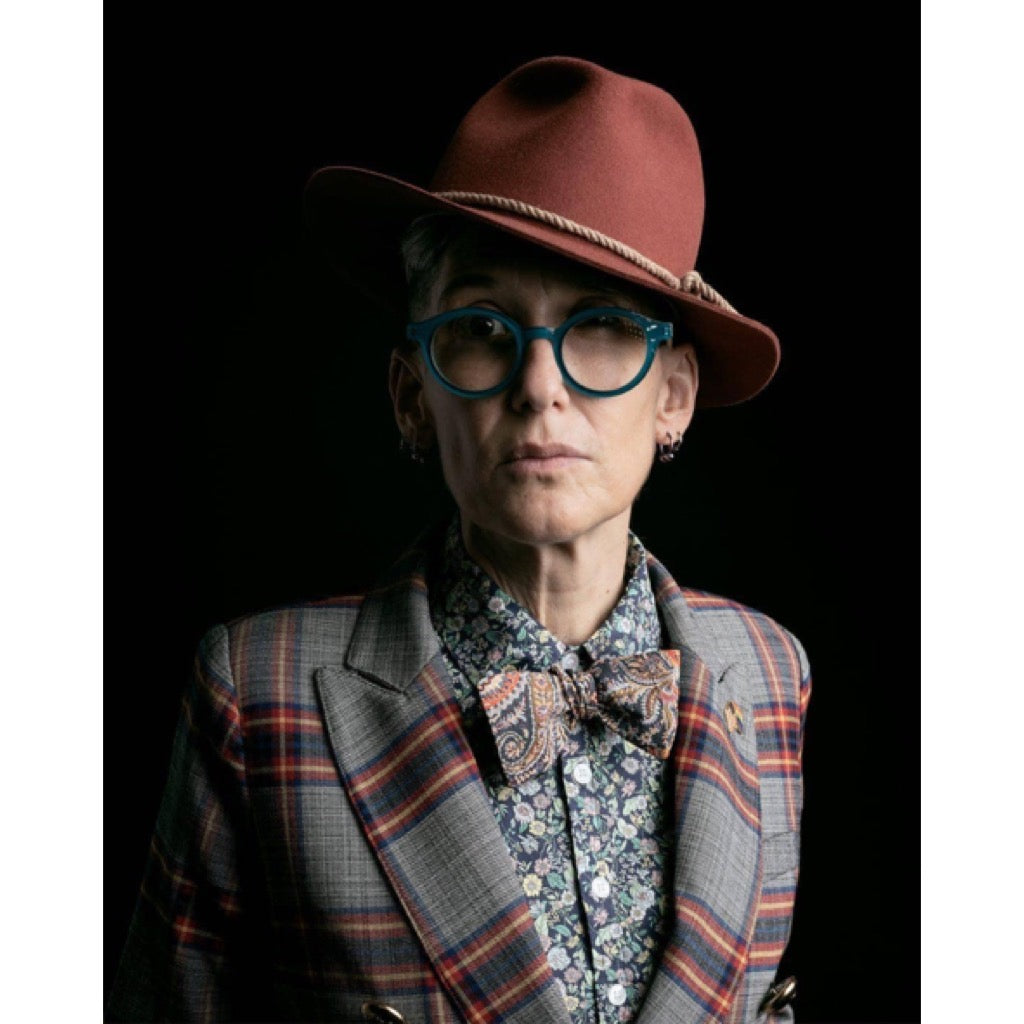 thesalting SPOTLIGHT: mindy dawn friedman
we have had the immense pleasure to sit with visual activist, mindy dawn friedman. georgian citizen and dapper revolutionary: shining our spotlight bright.
there is so much beauty, strength and positive energy around you. thrilled to spend time together.
would you share with us, a defining moment where you decided to walk forward on your path: sharing your message for equality?
That's a hard question to ponder. It seems that nearly every day and new situation seems to call for this message anew. 
As far as defining -- I am going to have to go back to 1991. I used to be a fairly prolific stand up comedian. In my early days doing open mics at Charlie Goodnight's Comedy Club in Raleigh, NC -- one night a heckler yelled at me, "Carpetbagger!!" Let me first say that I'd never heard that word before and only afterwards realized he was calling me a Yankee since I was clearly not yet a Southerner. I thought he called me a carpet muncher -- despite the fact that nothing in my early routines was remotely queer. I was mortified. It sucked the wind out of me so badly that I literally just moved the microphone stand and performed for everyone in the club except him. I could feel the discomfort in the audience since I had not really addressed the heckler or the heckle. 
That night I went home and questioned why I hadn't responded -- why I felt disempowered by someone I didn't even know. And I realized I gave him power in allowing myself to feel shame. It didn't matter what he called me. It mattered how I received and responded to it. It forced me to look within and think about why I didn't share more of my queer experience on stage. In realizing that my closets did not protect me from judgment I decided to own my story.  'If you are going to give me the side stare anyway,' I thought, 'I might as well be my authentic self and be the star of the Mindy Show.' And in just taking that leap of faith I suddenly realized I was helping pave a safer path for those coming up after me.
do you have a favorite article of clothing that represents all that you are? or possesses special meaning for you?
First I must ask that you not tell any of my other items of clothing what I am about to share. I don't have children. What used to be a child's bedroom to the previous owner of this home is now my glorious closet, proudly displaying my favorite shoes, hats, suits, ties, other items of clothing, accessories, and art. So, I tell them each day how special they all are and I don't love any one of them more than the other. 
But there is this one bow tie. My wife and I were visiting New York in March of 2017 and had the opportunity to see The Late Show with Stephen Colbert. I'd packed for the weather (which ended up being pointless after Winter Storm Stella hit). I decided I wanted a new bow tie. We hit 5th Avenue and stumbled into Barney's. I was disappointed to see that most of their bow ties were pre-tied. Then I saw it. Houndstooth, glen plaid, black/white -- dripping with class and elegance. I tried it on and had to have it. 
The day of the show I decided I wanted to bust out that bow tie and pulled together my ensemble around it. It was freezing outside. We had plans to meet the ever amazing Elliott Sailors and Olimpia Valli Fassi Soheve for coffee and desserts before getting in line to wait to be seated. That afternoon was magical. When we finally parted ways and Megan and I made our way over to the Ed Sullivan theater -- I brought that magical feeling with me. I chatted with everyone around me -- perhaps just to keep warm? This led to me talking to Lauren, who worked for the show. Everyone was bugging her asking when they would get out of the cold. Instead, I just chatted with her about stuff and things. She asked me what I was most excited about getting to see during the show. "I just really want to have that moment where Jon Batiste and I lock eyes and he recognizes a kindred spirit in me." I've joked with my friends about that very thing because it seemed so far-fetched. Lauren chimed back with the kindest of grins, "Jon would love your style!" That was enough for me to feel my day had been made.
I was dancing through the doors once we got into the theater. Michael Jackson's "Black or White" was playing. I was wearing black and white bow tie. I took it as an omen -- even as my wife tried to get me to stay under the radar hoping we weren't breaking any rules. 
As we were about to be seated around 15 rows back in the lower level Lauren came and grabbed me and Megan. "Sorry, ladies. I saved two other seats for you." And, she ushered us to the front right of the theater directly in front of the band. Lauren wanted Jon and I to have our moment and for everyone to see it. Bless her!
I got to have my meaningful moment with Jon Batiste in which he walked into the audience and directly over to me while playing his melodica. He leaned toward me — for something of a hug. The tie. The tie was the thing. That tie makes magic happen. You can't tell me otherwise. 
where do you see yourself in three years?
Hopefully not sheltering in place. I truly love living in the Atlanta area. There is a lot of great work to be done when it comes to civil rights, and a beautiful community that believes in good trouble, necessary trouble. 
From a career perspective -- I could see myself leading diversity, equity, and inclusion initiatives in corporate America. I will always be involved one way or another in the queer fashion and visual activism space. I'm not sure where that will take me. Perhaps I will continue some modeling -- especially in the renowned DapperQ NYFW shows at the Brooklyn Museum. This year even while sheltering in place I had the opportunity to do campaigns for the Census in Georgia (in order to appeal to more diverse populations) and Goorin Bros. I'd also love to get more into styling, designing, and perhaps even helping evolve a brand of clothing that resonates within and outside of the LGBTQ+ community. Preaching to the choir doesn't have near as much impact as stepping out into a world beyond rainbows. 
what is your definition of dapper?
I once read in a dictionary that dapper is neat and trim in dress, appearance, or bearing in a man. Perhaps to a man that is dapper. To this gender nonconforming human -- dapper is a style and attitude that is intentional, eccentric, and attention grabbing. Sock and shoe, trouser and boxer, shirt/vest/blazer and bow, pocket chain and lapel pin – they are each paragraphs in the chapter of the novel of me. When I show up dressed to the 11's (because the nines are not quite bold enough) people know to expect the unexpected. That is dapper.
three favorite films?
Life is Beautiful, Harold and Maude, and The House of Yes. Honorable mention goes to The Lost Skeleton of Cadavra.
how do you practice erasing hate in your own life?
You can't erase hate until you address your own unconscious biases -- including internalized homophobia. So, I start with self reflection which leads to education. I am an insanely curious person. I read, watch movies, have uncomfortable conversations to drive my own awareness. Once I feel confident in my knowledge, I observe the world around me and imagine how it can be better. I am moved by heroes like John Lewis who taught me about good trouble, necessary trouble. I live my life outloud. Whether it is my Instagram, my blog, or face to face encounters -- I share my voice and my experience. I challenge those around me that silence makes one complicit. By and large I do this with a smile, a bow tie, and an open heart & mind. 
Maybe I alone don't have the power to make a meaningful difference, but if I do nothing the only thing guaranteed is that nothing will change. If I do something and someone sees — maybe it will move them to action. And maybe that action inspires another, and another, and another. And suddenly a powerful chorus of voices seek to enact change in their visibility.
"When you see something that is not right, not fair, not just, you have to speak up. You have to say something; you have to do something." John Lewis
do you cook? specialty?
I am beyond fortunate to have a wife who loves to cook. She refined her cooking chops in Louisiana. She loves one pan or pot cooking and never shies from flavor. My cooking skills are minimal. I can make a pretty solid baked ziti, french toast, shrimp scampi -- and I make a great cup of coffee. 
biggest challenge since covid?
Low hanging fruit would dictate that finding a new job after being laid off would be my biggest challenge. But I have faith in who I am and what I do that this won't be a sustained challenge. 
As an extrovert and a people lover, I absolutely miss getting together with friends, meeting someone new, and having that genuine loving interaction which typically concludes with a tight embrace. I've had to get creative and innovative to maintain, evolve, and even create new meaningful friendships. It will sustain me until it is safe to venture out and masks are a thing of nostalgia. Perhaps I will make bow ties from all of my discarded masks once there are viable vaccines and more effective treatments for the virus. 
has social distancing altered your drive/ momentum? how have you pushed through that hurdle?
In early March, absolutely! I had the privilege of being able to work from home. During that time I felt like I was constantly paddling to stay afloat. And then there was the furlough followed eventually by the lay off. It was demoralizing. I communed with my couch more days than I am willing to admit. I granted myself that space and grace -- and even had several champions on the sideline who made me feel safer to take time for that self care. I needed to cocoon to let my butterfly evolve.
As I let the world slow down I listened to my inner voice. I allowed my imagination to take the place of logic for a time. I started blogging again mostly for me. And then people started reading it and asking when my next post would follow. I shared my experience via social media in a raw and authentic way. And I reached out to amazing creative people in my network. In fact, Michael, you were only someone I knew of previously. I knew of your creativity both as an artist and in the fashion world. And I was so honored when you were open to having a video chat about creativity, innovation, and life in general. It became a sort of template for how I approached other creative people I knew. 
Like a lot of people, I started playing with Instagram Live. My friend Heather noticed I tended to do them on Mondays during lunch. She encouraged me to create a series -- Mondays with Mindy. I invite people I either know or know of who have important and/or exciting things to share. It seeks to inspire and challenge people to be kind, speak up, be fabulous, and influence the world around them for good. 
you are a native new yorker. what does being a new yorker mean to you?
It's funny. Sometimes I feel like I have dual citizenship -- Atlanta and New York. I have such pride in Atlanta. The diversity in population, the cradle of Civil Rights, and an undeniable style and substance of its own.
That all being said, New York is the heart that pumps my blood. Think about it like this -- I can get a bagel anywhere in the country. But if it isn't made with New York water from a New York deli, I'm just enjoying carbs in a circular form. 
New York is a true melting pot of diversity that proves time and again how resilient it can be. The funny thing is -- for a long while after I moved to Atlanta I didn't vacation in New York. I thought -- there are so many places I hadn't been. I know New York. And then I visited back in 2016 after an absence of almost a decade. Whenever someone 'mistook' me for a New Yorker I felt so honored -- until my wife reminded me, "you ARE a New Yorker." 
favorite new york memory?
Last September I had the honor of returning to New York to participate in the DapperQ NYFW show at the Brooklyn Museum again. The best part was that my parents were able to come and we spent the entire week together. 
Mom and dad were born in Brooklyn so they were excited to share some of their favorite haunts with me and were up for all the places I wanted to go. If I never have another pickle from Junior's Restaurant I don't know how I will carry on.
It was the first time any of the three of us had visited DUMBO. That area is magical with breathtaking views. We walked around, shopped, ate (a Jerusalem bagel with lox that was bigger than my head), shopped, ate (pizza -- no, Atlanta -- that is NOT pizza), and people watched (to be fair -- many of them watched back). The carousel wasn't open that day. So I have a standing date with them when travel is possible again to ride the carousel. 
It might not sound spectacular. But it fills my heart with joy and love. 
we have never been to decatur: top 3 recommendations for our visit? 
Decatur Square is a must visit. Whether you are a beer drinker, a foodie, a shopper, a people watcher -- there is always something to enjoy. My favorite restaurant in the Square (and maybe all of Atlanta) is The Iberian Pig. Their food, beverage, and hospitality is second to none in my book. If you are a drinker AND a bacon lover -- their Iberian Old Fashioned will ruin you for any other drink. 
Music lovers would enjoy Eddie's Attic. This small venue helped launch the careers of artists like The Indigo Girls, Sugarland, John Mayer, and little Justin Bieber. They also have open mic nights, stand up comedy, and other live events. 
For an off the beaten path recommendation, I suggest the Waffle House museum -- the site of the very first Waffle House restaurant. It opened back in 1955 and has been restored to feel as though you are stepping back into 1955. In addition to the restaurant, it features Waffle House memorabilia from the past 60 years
loving your #roomtobeyourself message. there is much to what we do at thesalting that resonates with this message. the unisex efforts has its challenges and most importantly has huge reward. please elaborate about #roomtobeyourself and its history?
Interestingly, I appropriated that tagline from IHG (where I used to work). When I was hired over 9 years ago I received a welcome package. The cover read "Room to be Yourself" and pictured some of the diversity within the company. I thought, "That's great! But -- there is not enough room for ME to be MYSELF, is there?" So I made the room. I cultivated an atmosphere in which my own authenticity and boldness trickled throughout. It helped me to better understand how important visual activism and having a message of inclusion, hope, and positivity. 
As I started feeling safer to push my own boundaries, my style evolved and became an intrinsic part of my voice and message. It led me to NiK Kacy of NiK Kacy Footwear. Quickly, a bromance was forged and continues to be sustained to this day. They introduced me to the dapperQ community in which I first really learned about Visual Activism and understand how what we wear (and even what we choose NOT to wear) can make a difference to others in this world. 
Authenticity is an intersectional message. If someone like me feels safe to be themself it is like the proverbial green light that Harvey Milk references in his Hope speech. 
…that gives a green light to all who feel disenfranchised, a green light to move forward. It means hope to a nation that has given up, because if a gay person makes it, the doors are open to everyone. So if there's a message I have to give, it is that I found one overriding thing about my personal election. It's the fact that if a gay person can be elected, it's a green light.
And you and you and you, you have to give people hope.
how have you seen yourself change and grow over the last few years? what has surprised you about your growth?
As I was on the cusp of 50 I suddenly realized that I was not two 25 year-olds like I was proclaiming to all who would listen. It offered me the perspective to step into more of an elder statesperson role. When you live in the present it is easy to overlook the history of which you were a part. My wife and I have become aunties to many younger folks who don't have the role models to make them feel safe, loved, protected, and valued. Many are LGBTQ+. We all need to see not just who we are but also who they can be. 
I may not be everybody's cup of tea. But I always hope for that connection with a person who sees an aspect of his/her/themself in me for a chance to uplift and celebrate.