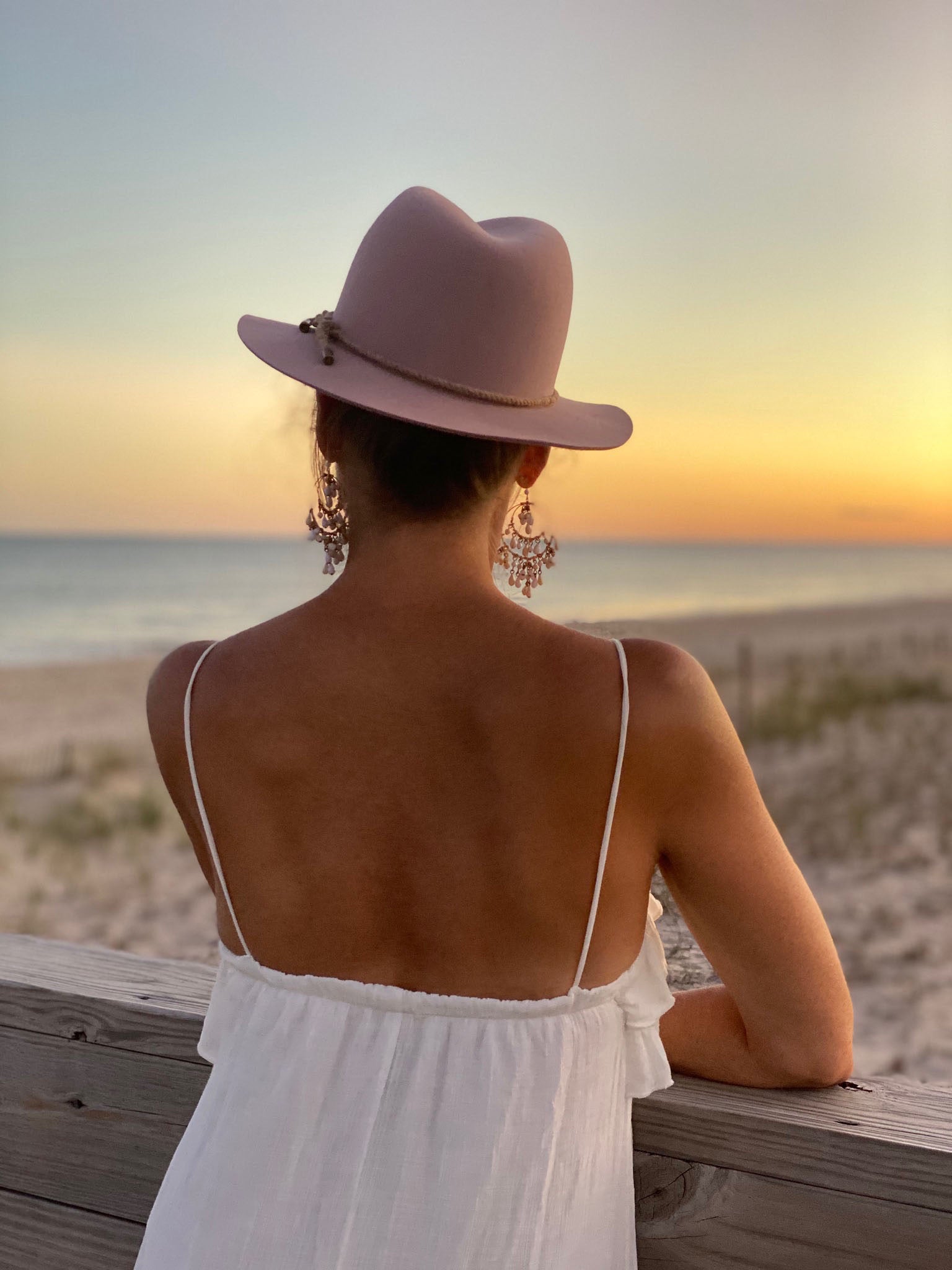 shining our spotlight on an incredible talent and friend, Megan guip of WILHELM. we've had the privilege of collaborating with Megan on our custom feather pins for two collections.
1. please tell us about wilhelm and its philosophy.
Wilhelm is a space for me to play and explore my creativity outside the confounds of the corporate fashion structure. I needed an outlet to express myself differently. I had started out batiking silk which evolved into feathered scarves worn over the shoulders and then floral crowns. I have a friend who is a shaman who told me in royalty, you are cloaked and then crowned. I'm not sure if that was a metaphor for where I was in my life...creative sovereignty or what, but I like to think that the pieces I create embody empowerment.
2. how did you land on the name wilhelm?
It's my father's middle name....he passed when I ws 16 and was a huge creative force in my family's life. the name is in honor of him.
3. we've often turned to you for advice and encouragement. your positive energy is inspiring. what practices help you maintain this feeling in your daily life?
I think you have to check in with yourself and ask...what am I doing to feed my body, mind & spirit? since covid, I picked my kundalini practice back up, so I do that daily....I do this more for my mind than anything else in the midst of all of this chaos. so I get up, make a celery juice, do about 45 minutes of kundalini and then a 1/2 hour work out....after that, I make a smoothie. I made this routine non-negotiable, if I can check off these things in the morningI know I'm setting myself up for better things.
4. does music inspire your creative process? 
always and forever...
5. 3 favorite albums?
I'm not sure I could possibly answer that because there are too many for too many different reasons.
6. what brought you to nyc?
I knew from the moment we took my sister to look at colleges that I had to be here...it was the energy, the people, the art...it was a mish mash of everything all at once. it struck me like a bolt of lightening. so when I was in high school back in pennsylvania I saw a poster in the library about summer school at parsons school of design and I took it home, put it on the dinner tableland told my parents this is where I was going and you can't say no because I am going to pay for it myself.
7. we ask each spotlighted individual about erasing hate: how do you erase hate?
I think it's about being conscious of the energy you bring into a room...that and being able to gently offer an alternative perspective.
8. favorite color?
green
9. how are you coping with the pandemic? what have you learned about yourself?
well, the beginning was definitely rocky at first. then I did a deep dive into all the resources I lean into when something is throwing me off my center. I had to ask myself how do you want to not just survive this but thrive through it? so I chose to maximize all th upsides of what this experience had to offer....for me, it was time. I implemented my non-negotiable daily routine as stated above. I did a mental purge and reorganization of my home & work environment. I've been spending quality time with friends and family and gardening and connecting to Mother Nature as much as I can.
10. favorite section of nyc?
I would normally say the lower east side but I'm kind of crushing on Tribeca right now.
11. share a favorite memory of nyc. we are certain you have several. please share one that goes to mind...
oh wow! there are SEVERAL, but ok.....here it goes. the day I returned home from an 18 day trip to rome, my girlfriend,  who lived above me said let's go grab a drink across the street, I want to hear about your trip...one wine bottle into the evening, she said there was a party going on at the maritime hotel. I was a little reluctant because I was jet lagged but I was not only buzzing from the wine but the trip I just had. we proceeded to the door of the hotel but they wouldn't let us in b/c it was a "private party"....so we thought we'll just find our friend who owns the club inside. we headed down to the restaurant and ran into another friend who happened to be with harvey weinstein ( pre #metoo). he asked if we wanted to go to a party's we proceeded back up to the door that the guy dissed us at and walked right in. mind you, my girlfriend and I were wearing jeans, camis and strappy sandals....everyone in the place was decked out to the nines. we couldn't figure out where we were....I looked closer at who was there....I saw PDiddy, tom ford and then selma blair walked by....so confused, I walked into the bathroom where I ran into helena christensen, who had always been friendly, and then donna karan comes barreling in, throws her foot up onto the sink and shouts...."who the hell invented high heels?" I mean.......and then, daryl hannah walked in and she was wearing a heavy metal t-shirt and jeans and I felt so relieved I had to tell her how thrilled I was with what she was wearing. once out of the bathroom I ran into an old classmate, derek lam, and asked him what this party was for, he said it was the cfda after party.  my girlfriend and I just giggled and proceeded to go up to our friend's club to dance. it was there I met this tall dutch guy who was bouncing around on the dance floor in his bare feet. we started dancing for a good while and then my gf said... its time to go. tall dutch guy puts his arms around my waist, pulls me onto his lap and says....your'e not going anywhere. he then asks me to come home with him and his friends who live in the same building....I was trepidatious but his friend, who was a girl, said it's ok....he's a good guy and we are all together. he went to grab his shoes but could only find one. so there he was leaving the club with one flip flop on. meanwhile, I had learned he crashed the party as well, traveling behind terry richardson (pre #metoo). I mean, you can't make this shit up. we all got back to his place...he was a hair stylist....it was pretty late....and he proceeded to shave the side of my head. needless to say, barely any sleep happened and he announced he had to leave for a 6am flight to mexico! so there I am, jet lagged, still buzzed, shaved side head, walking out onto the bowery in all my glory and I just had to laugh and say...well, when in rome!! and I've been with the tall dutch guy ever since.
12. how has wilhelm surprised you?
I think the whole experience surprised me...once I let go of what I thought it had to be it started informing me where it could go. it afforded me so many great experiences with other creatives that are just priceless.
13. last concert attended?
watched my brother drum outside with a group of friends in the catskills.
megan guip photographed in fair harbor, fire island, new york by eve thomas.