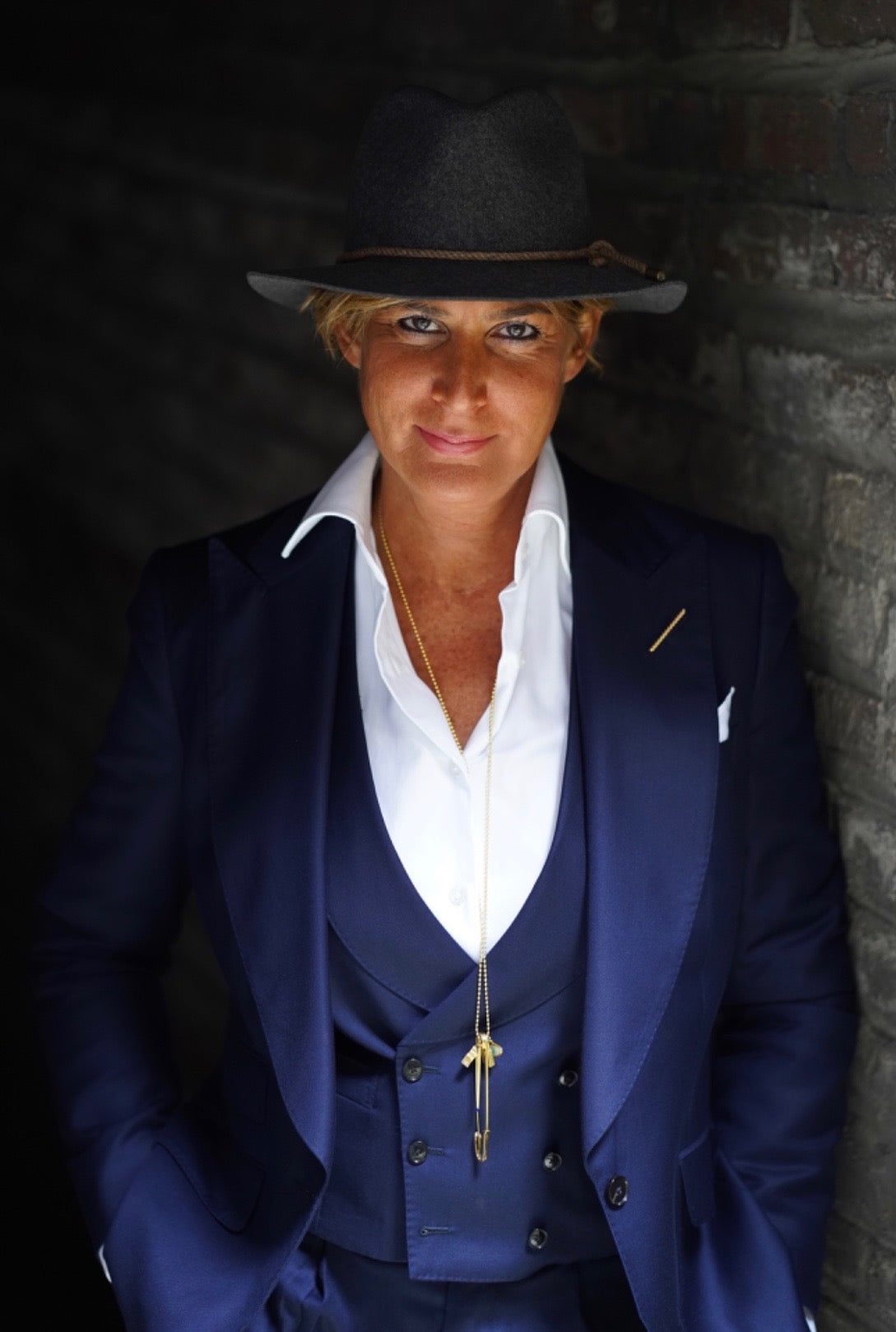 thrilled to shine our spotlight on melissa kuba lederer, director of design and manufacturing at VERDURA and BELPERRON.
1. when compiling those who inspire, you are quite high on our list. thank you for all of the gorgeous beauty you bring into the world. how long now have you been at VERDURA? and try and share the feeling of having your position.               
mk: this past september marks my 30th anniversary at VERDURA. i have a rather short resume as this was my first and only job since college.
 as far as how I feel.... let's just say I lucked out in life!
2. india is a focal point for your travel and research: your favorite cities in india and how many times would you say you've travelled to this magical part of our world? how inspiring is india for your work and for your personal life?                                                                                                                             
mk:my first buying trip to india was in january of 2000. i travelled back for the next five years, spending 2-3 weeks each time. I visited mumbai, new delhi and other cities, but my home base was jaipur in rajasthan, one of the world's largest and most important gemstone cutting centers. it was an amazing time and experience for me which could never be replicated today as life and business both here in New York and India has dramatically changed.
 i went to source the most unique parcels of precious gemstones like colored sapphires, spinels and materials that I could cut from rough. the goods available on the u.s. market in those days were too"hand-picked" and commercial. i wanted to find material that was unusual and could be used to build magnificent pieces, in the same fashion verdura did in the 1940s and 50s. the gemstone world was a male dominated industry and if it were not for my friend munnu kasliwal of the gem palace in those early years, the dealers would not have bothered to show up or take me seriously.
it was on my second trip that they lined up for hours out the door waiting to show me their goods, knowing they had a REAL buyer, despite my age and sex!
 i learned so much from those travels and continue to do so every day. that's the beauty about what i do. I'm from the school of no formal training, just hands on experience and great people who gave me an opportunity.
3. most precious gemstone you've worked with?
mk: in 2004 i made a ring set with an emerald-cut blue diamond weighing 14.71 carats. it was extremely rare and valuable at the time and i felt very confident carrying this stone in my pocket back and forth to the workshop while we made the mounting. well, to say the least, diamond prices for rarities such as this have since changed. this ring recently sold in 2016 at christie's geneva magnificent jewels sale for $57.5 million, setting a world record, and making it the largest fancy vivid blue diamond ever offered at auction. the diamond was named "oppenheimer blue" weighing 14.62 carats after a slight re-polishing. i am proud to have been part of this diamonds journey.
there is also a ruby called "the jubilee" but that's another story!
4. it's difficult to interview you and not mention bill cunningham. do you recall the first time he photographed you? the feeling?? and how many times would you say he photographed you? 
mk:  every time I hear his name it brings a smile to my face. i miss him and am truly fortunate to have been part of his inner circle.
the first time he photographed me, i was walking with my soon-to-be husband jeff on madison avenue. i would say that was taken in early 2008 as i still had long hair.
it was always a rush when he lifted-up the camera with that great big smile. that excitement was always the same for me. i cherish the chats we had in the morning on the corner of 57th and fifth avenue.
it's the times that he just waved and smiled but didn't raise his camera that i knew it wasn't a good look that day!
bill had photographed us many times and would leave an envelope with our doorman on the weekend with prints of photos he had taken, some unpublished, along with a sweet handwritten note. i cherish these.
i believe i was in pictured in 26 "on the street" NYTimes spreads with over 45 shots in all but i've since lost count. i was always ecstatic when he used several photos in one piece. but my all-time high was when i opened the styles section on september 18, 2011, the week of ny fashion week, and bill had featured me by name in his write-up, using a total of 9 photos! it's still a "wow" to me every time I read his words!
 5. your greatest inspiration? influence?
mk: as my career at verdura has been such an enormous part of my life, i would have to say that duke fulco di verdura and his work has been and continues to be my greatest influence. my office is home to the archives which has over 10,000 gouache drawings of brooch, bracelet, earring, ring, necklace and objet designs. his mastery and talent are truly awesome. my design team and i work hard every day trying to fill these shoes and when challenged, we always think hard and say, "what would fulco do"?
 6. 3 favorite nyc restaurants?
the whitby, because they make us feel at home and part of the hotel family
fleming by le bilboquet
cipriani, especially if i am craving a piece of their vanilla meringue cake!
7. 3 favorite restaurants outside nyc?
 being that my husband jeff and i just returned from europe, three favorites easily come to mind!
il salumaio di montenapoleone in milan
paper moon giardino in milan
plage keller in cap d'antibes
 8. last movie you have seen in an actual movie theater?
mk: "JUDY". it's about judy garland's time in london in the late 60s .... it was wonderful.
 9. with so many accomplishments, can you pinpoint your proudest moment at VERDURA?
mk: september of 2014 marked the 75th anniversary of duke fulco di verdura opening his doors on fifth avenue. we held an extraordinary exhibition called "the power of style: verdura at 75" with over 200 jewels on display, on loan from private clients and our museum collection. they dated from verdura's early years in the late 1930's all the way to present day. when walking through the exhibit on opening night, it gave me a thrill to see several pieces in the showcases that i had a hand in making. and hearing people's comments as they admired them through the window was a real high.
10. does costume jewelry offend you?
mk: ha, not at all! bad design and poor workmanship is offensive. costume jewelry can be bold and creative, sometimes even more so than fine jewelry. even fulco di verdura created both costume and precious jewelry for his friend coco chanel in the late 1920s. several of these iconic and brilliant cuffs set with paste gemstones have come up at auction and brought exorbitant prices. it has been my privilege tohave had some of these pieces in my hands to study over the years.
11. please tell us about BELPERRON? how is this collection different from VERDURA? what made you launch this business? where did the name come from?
mk: i am privileged to be the director of design for both verdura and belperron. two very different jewelry designers, one sicilian, one french, both doing groundbreaking work during the same period; verdura in new york; belperron in paris.
 suzanne belperron was one of the few women in charge of a jewelry workshop in early 20th century paris. like verdura, she was bold in her designs, daring to mix precious stones with unorthodox materials. both designers were brilliant and equally admired by the same clientele, both in america and in europe. belperron refused to sign any of her pieces, famously saying "my style is my signature". the landrigan family proudly owns thousands of the archival drawings to both jewelry houses. we launched our first belperron flagship salon in 2015. when you walk through both galleries, you can see the differences in aesthetic and design yet equally feel the level of sophistication and artistry.
it's a challenge to switch from one designer to the other during the course of the day but after some time, as it did with verdura, it becomes a second, or in this case,a third language.                                                                                           
12. favorite flower?
mk: as i have always been partial to white flowers, i would say it's a toss-up between white roses and tulips.
13. it seems custom tailoring and appreciation for hand crafted clothing has become an important part of your signature style. where do you go for custom shirts?
mk: i always admired how katherine hepburn and marlene dietrich famously made menswear look sexy on women as early as the 1930s. it was revolutionary at the time but even to this day, not an easy feat. it has been a long road for me to find a master tailor to make me perfectly fitting bespoke suiting and shirting. thankfully i met christopher korey and his partner carl cristiano who recently launched CKC. i now have a small procured wardrobe, that i can mix and match, and expresses my own personal style.
wearing something that is ill- fitting completely throws me off during the day. building a wardrobe together is fun and makes getting dressed in the morning one of life's simple pleasures.
14. do movies influence and effect your style? 3 favorites?
mk: absolutely yes and for all kinds of reasons.
"the thomas crown affair", 1968, with steve mcqueen and faye dunaway. a movie doesn't get more stylish or sexier than this. even the theme song "the windmills of your mind" by michel legrand was our wedding song .... a bit of a challenge to dance to but it was perfectl
"to catch a thief", 1955, with cary grant and grace kelly.... the french riviera and big jewels, need i say more!
narrowing it down to three is tough but one of my favorites is "the talented mr. ripley'. the italian seaside in the 1950s with a little murder...
15. and finally, THANK YOU for being a part of our PORTRAIT series this autumn. appreciate your warmth and generosity in support of our brand.
mk: the pleasure is all mine. i am thrilled to be a part of thesalting and what you have created!